Custom development of mouse or rat monoclonal antibodies. 
Custom monoclonal antibodies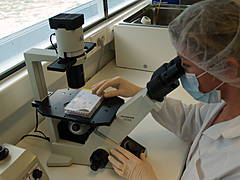 Before embarking on a project, a discussion with Agro-Bio's scientific teams is required in order to identify the client's needs and constraints, culminating in a precise specifications document and a full technical proposal. 
We can offer several types of immunization protocol, fusion and customized screening (ELISA, BiacoreTM, western blotting, etc.). 
We also work with complex antigens (hormones, chemicals, peptides, etc.), enhancing their immunogenicity through conjugation. 
For each project, we provide cell banking services for the clones developed. The client has full ownership of the clones (fee-for-service).