Custom antibody generation
Polyclonal or monoclonal antibodies (hybridoma antibody protocol), custom protocols for the diagnostics field.
Customized antibody generation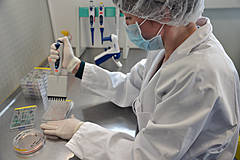 Since 1975, Agro-Bio has been a key and steadfast partner to clients in the diagnostics field looking to develop new antibodies to biomarkers. 
Depending on the finale application of the antibody (e.g. a sandwich ELISA, a lateral flow test) and the nature of the antigen, we offer comprehensive strategies including immunogen synthesis or conjugation, monoclonal or polyclonal antibody generation, and validation of the finale application.
Type of immunogen: chemical, peptide, protein, virus, bacterium, DNA.
Type of screening: western blotting, ELISA, Biacore™, FACS.
Type of purification: protein A, protein G, affinity purification. 
All your antibodies developed in this way are royalty-free (fee-for-service).