Bioproduction processes use a variety of host cells (bacterial, yeast, mammalian, insect or plant cells) to produce the biotherapeutic protein of interest, but contaminating proteins derived from the expression system are also produced. 
These protein contaminants, called host cell proteins (HCPs), are residual protein impurities that potentially reduce the quality and efficacy of the biotherapeutic product, as well as patient safety. 
A critical aspect of the bioproduction processes is the removal of these host cell proteins (HCPs) to appropriate levels in order to minimize risk to patient safety and drug efficacy.
Regulatory authorities require these HCPs to be monitored and quantified using a gold-standard method, the sandwich ELISA. 
Why do you choose Agro-Bio for HCP projects?  
We realize all the HCP services in STAGO group (no services are subcontracted).
Agro-Bio is an independent expert, we don't sell generic kits nor produce GMP molecules Bioproduction.
All antibodies, antigens, documents and results, etc. generated under the service contract are the EXCLUSIVE PROPERTY of the client. 
In-depth understanding of each project and close collaboration to guarantee project success.
HCP-Assay Development Cycle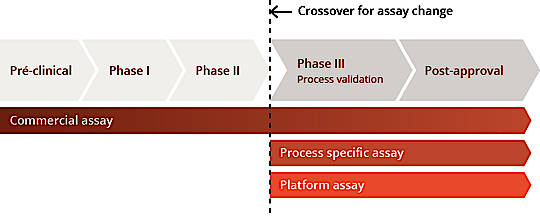 This diagram, modified from FDA guideline 1132, shows the HCPs monitoring strategy at each phase of the bioprocess. To quantify the HCPs, a generic HCP kit is usually used during first phases, however afterwards it will be mandatory to demonstrate that the kit is suitable for the specific process by testing the ELISA parameters and determining the percentage of coverage of the antibodies anti-HCP on the HCP mix. From Phase III it is strongly recommended to develop a process specific HCP ELISA kit. Such approach  allows to overcome the batch to batch transitioning problem with generic HCP ELISA kits and to ensure a long-term supply of anti-HCP antibodies lot which will follow the production of biologics over long periods.
Optimized solutions for host cell protein (HCP) detection
Agro-Bio offer a complete, custom solution to your HCP issues:
To Select and qualified of generic HCP ELISA kits
Selection and qualification of generic HCP ELISA kits: dilutional linearity, specificity, coverage, LOD/LOQ. 
At Agro-Bio we offer two techniques for COVERAGE analysis (C.f HCP Coverage evaluation (lien avec cette page). 
Agro-Bio does not offer Generic HCP ELISA KIT for sale, which gives us complete independence in the results and in the selection of the most suitable generic HCP ELISA kits.
To develop a ELISA KIT HCP process specific & Antibody Generation Services anti-HCP
Bulk production of anti-HCP antibodies (rabbit, goat, chicken) or optimized immunization protocols on SPF (specific-pathogen-free) animals,
Suitable purification processes: protein A/G or affinity purification (specific anti-HCP polyclonal antibodies),
Validation of anti-HCP antibodies: coverage analysis using 2D gel electrophoresis/western blotting, 2D-DIBE, immunoaffinity extraction,
Development and qualification (in accordance with ICH guidelines) of specific HCP ELISA assays (kits),
Design of ready-to-use ELISA kits and quality control.
Our service also includes secure storage of the sera and antibodies produced, as well as monitoring of the stability of these critical reagents and ELISA kits.
To analyse HCPs with Mass Spectrometry.
Identify the HCP present in the samples
HCP ELISA KITs give solely a total quantification of the HCPs, therefore it is interesting to have a complete picture of the profile of the HCPs present in the DSP, to be able to identify them and have their relative quantities. It is also particularly recommended to identify the HCP proteins that are difficult to remove all along the purification process and the residual HCPs present at the end of the DSP. 
Mass spectrometry as an orthogonal method can be an essential tool here. Indeed, once the identity of a particular HCP is known, its potential biological activity or its immunogenicity can be evaluated. 
Example of protocol: from a customer's HCP sample, we can separate the protein sets in 1 or 2 dimensions. After staining (Blue, silver ...) and determining the spots we can extract the proteins of interest. These extracted proteins will be digested by enzymes (Tryspsine,…) and analyzed in bulk (NanoLC-MS / MS,…) for their identification.