In-Vitro Antibody Production
Agro-Bio's cell culture platform is equipped with various batch or dialysis bioreactor production systems. This enables us to supply the in vitro diagnostics and biotech industries with monoclonal antibodies in quantities ranging from a few milligrams to tend of grams.
Customized antibody production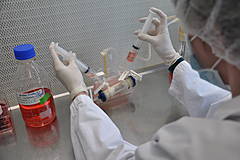 Whether it concerns clones developed by Agro-Bio (cf antibody development section) or clones that you provide us, our team will guide you towards the best production strategy (culture conditions: system, medium...). We also guarantee you the best quantity/time/price ratio.
Agro-Bio adapts the production systems to your specifications such as "low Bovine IgG" and "Endotoxin-Free" antibody productions.
For each production, the adapted purification protocols depending on the isotype and their origin will be proposed. Agro-Bio has a purification platform of several robots in order to combine high yield and reproducibility. 
Long-term antibody production 
Our production facility allows us to accompany you over the long term to meet the increase in your needs while ensuring inter-batch reproducibility thanks to mastering up-scaling from one production system to another.
Your need can be anticipated through batch reservations and regular deliveries. Each monoclonal antibody batch delivery is accompanied by a detailed certificate of analysis to guarantee its traceability.
Securing your cell lines is offered (cf section securing your cell lines) to anticipate reactivity in the launch of new productions and limit the risks and costs related to cryotube shipments. 
Our quality management system is ISO 9001:2015 certified for all our activities and we regularly welcome our customers for audits.
Focus: How is antibody production carried out with Agro-Bio?
Before launching the in vitro production of a new clone, the Agro-Bio team will discuss with the customer to obtain all the information regarding the clone's nature (origin, isotype, yield, ...).
In addition, particular attention will be brought to the final application in which the antibody will be used as this might vary the culture conditions.
A specific production schedule will be proposed including the production stages, the dates of the intermediate analyses of antibody yields and activity (cf Biacore section) and the final purification of the antibody batch. At each stage, a certificate of analysis is provided.  
What to do if the yield of the clone is not known? 
In this case, Agro-Bio proposes a preliminary production phase with the possibility to vary the culture conditions and production systems to define the best cell culture condition for that particular hybridoma. At the end of this phase, a choice will be made based on the production yield and/or activities of the clone. 
How to measure inter-lot reproducibility? 
The challenge consists in, upstream of clone production, determining together with the customer the "critical quality attributes". Therefore, the most adapted analysis parameters, such as affinity, interaction measurement, purity, aggregate quantification,...(cf antibody characterization section) are defined. Then the precise and simultaneous analysis of these different CQA, throughout the Bio-Production, will allow to obtain a robust and reproducible process leading to the expected quality for each antibody production.