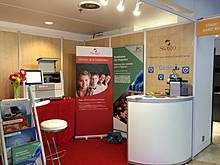 1st Agro-Bio participation to the annual congress of the SFH. Agro-Bio will attend alongside Stago. The SFH organized the 36th congress at the Congress Palace of Paris from March 23 to 25, 2016.
Agro-Bio and Stago came joinly forward to this event where Hemostasis was on agenda: poster, conferences.
For its first participation, Agro-Bio joined Stago's staff. Agro-Bio also met the hemostasis biologists in order to show its new products: Apyrase ADP-High and Apyrase ADP-Premium.
For more information on this event, The French Society for Hematology